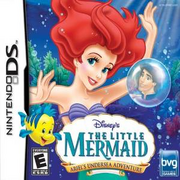 Plunge into a magical mystery with everyone's favorite deepsea damsel. Join Ariel, Flounder, Sebastian, Prince Eric and King Triton, plus Ursula, Flotsam and Jetsam for 16 gaming levels of underwater discovery. Kick out the jams and sing to unlock clues, dig up treasure and...you won't believe what happens when you rub the crystal ball!
Do your best singing pop idol into the Nintendo DS microphone to unlock splendid treasure chests
Direct your stylus to uncover, clean and polish sunken riches
Rock the Barnacle Band with up to five players
Ad blocker interference detected!
Wikia is a free-to-use site that makes money from advertising. We have a modified experience for viewers using ad blockers

Wikia is not accessible if you've made further modifications. Remove the custom ad blocker rule(s) and the page will load as expected.