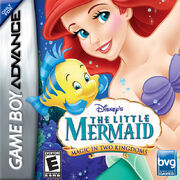 Disney's The Little Mermaid: Magic in Two Kingdoms
for the Game Boy Advance invites kids to experience their favorite moments, both under the sea and on land, from Disney's classic film, "The Little Mermaid." The game offers eight new games with Ariel and other memorable characters like Flounder, Sebastian, Eric, Ursula, King Triton, and even Ursula. Players have fun playing music with Sebastian, racing with Flotsom and Jetsam, illuminating Ariel and Eric as they boat on a lake and more.
Ad blocker interference detected!
Wikia is a free-to-use site that makes money from advertising. We have a modified experience for viewers using ad blockers

Wikia is not accessible if you've made further modifications. Remove the custom ad blocker rule(s) and the page will load as expected.