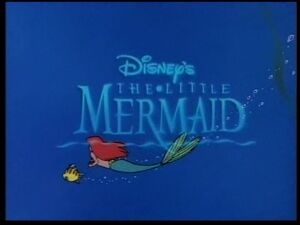 The Little Mermaid
is an animated television series based on the 1989 film of the same name, produced by Walt Disney Television Animation. It featured the adventures of Ariel and her friends Flounder, Sebastian, Scuttle, and other characters from the movie The Little Mermaid along with characters that are original to the series. This is the first Disney Television series to have spun-off from a major film. The Little Mermaid premiered in the Fall (Autumn) of 1992 with the animated short called "A Whale of a Tale," then moved to Saturday mornings. This series originally appeared on CBS, with an original run from 1992 to 1994. Jodi Benson reprised her role as Ariel for this show, and Kenneth Mars reprised his role as King Triton.
The first non-Disney Afternoon cartoon series to premiere for some time, The Little Mermaid television series is a prequel to the movie of the same name. The story is set when Ariel is 15, a year before the events in the movie, and follows her adventures as a mermaid still living under the sea. Various episodes highlight her relationship with her friends, father and sisters, and usually involves Ariel foiling the attempts of various enemies that intend ill harm to her or to her kingdom.
All Of The Episodes, produced by Walt Disney Company and Online Episodes produced by the online fan creating productions Team Moon DuB. See Episode List
Ad blocker interference detected!
Wikia is a free-to-use site that makes money from advertising. We have a modified experience for viewers using ad blockers

Wikia is not accessible if you've made further modifications. Remove the custom ad blocker rule(s) and the page will load as expected.