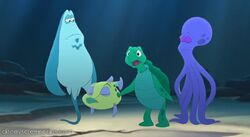 The Catfish Club Band are supporting characters from The Little Mermaid: Ariel's Beginning.
Ray Ray, a bass playing sky blue manta ray (voiced by Kevin Michael Richardson)
Ink Spot, a piano playing violet octopus (voiced by Rob Paulsen)
Shelbow, a drums playing teal sea turtle (voiced by Jim Cummings)
Cheeks, a saxophone playing green blowfish (voiced by Kevin Michael Richardson)
Ad blocker interference detected!
Wikia is a free-to-use site that makes money from advertising. We have a modified experience for viewers using ad blockers

Wikia is not accessible if you've made further modifications. Remove the custom ad blocker rule(s) and the page will load as expected.